For my team

My team is called The Stampers Next Door. The name comes from the fact that when we get together it's usually in the house next door to mine, which is owned by my in-laws. I also thought it had a welcoming, friendly, down to earth ring to it, kind of the like the girl next door.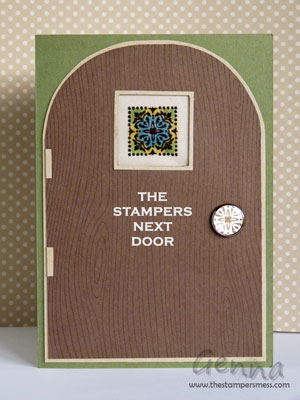 Getting Together
As a member of my team you are welcome to come to the team gatherings. These are held on the second Friday evening of every month AND/OR the fourth Friday morning of every month (BYO lunch) – unless otherwise notified. But please let me know you're coming so I can prepare accordingly. I'll usually offer some kind of training at these events but it's pretty casual and you should bring along whatever you're working on to share with the rest of us or to simply carry on crafting and chatting once the 'formal' part is done. Please ALWAYS bring a basic tool kit, including your own adhesive.
Other Benefits
All team members are welcome to come along to one of my classes each quarter for FREE but please bear in mind that my customers get preference when places are limited and if no customers have booked in the class my not go ahead as scheduled. You are welcome to book in and pay for additional classes as desired.
Training
See the Training Programme tab for more information.