Hostess Benefits
Hostess Benefits can be earned by anyone on any type of order
– you don't have to be the hostess of an actual workshop!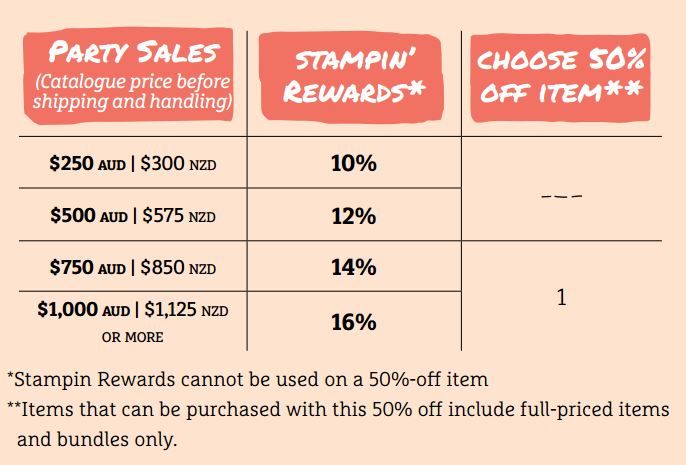 *Workshop sales totals do not include shipping.
Been saving up and decide to spend big for yourself? – YOU earn the benefits.
Have some crafty friends round for a party and everyone orders what they want? – YOU earn the benefits.
Gather some orders together from your friends and place them all at once? – YOU earn the benefits.
Host a virtual workshop and invite your friends to place online orders? – give them a Hostess Code** and YOU earn the benefits.
**Let me know this is what you're planning and I'll generate a code for you to share with your friends.
Hostess dollars can be used to buy ANY current product you choose OR they can be used to purchase from the exclusive range of specially priced Hostess Products in each catalogue.

Hostess Dollars cannot be used to purchase 50% off items

Items at 50% off can include ANY full-priced item in any current catalogue.

50% off items incur 5% shipping charges.