Many apologies for being so quiet for so long. One of the great things about Stampin' Up! is that it's flexible and can fit in with your life and change as you need it to. I just never expected other things in my life to take over as they have done this year.
The past few months have been the most intensely stressful sustained period I've yet to experience. When I first went quiet it was because we were completely renovating our house and putting it on the market at a time dictated to us by an inflexible bank, as well as having to be very hands-on with the process of building of our new house through an independent builder. Let's just say that neither went to plan and the anxiety, exhaustion and stress have not been conducive to creativity.
I've had a lot of questions about what's been going on so here's the story. It's long and complicated so bear with me. Or skip to the end.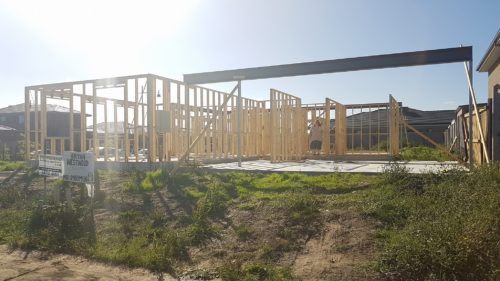 January 2017
The problems started when our windows, which were ordered in January and due in April didn't arrive. The first delivery was in June but was just the frames with the fixed windows and some of the screens. From that point on though we were stuck because the brickwork was done around the windows we had and we just had to wait for the rest, which we were always told were 'just about to arrive'. We've ended up getting the rest of the windows but VERY slowly and with a lot of stress and sleepless nights.
The last windows were delivered last month but…they're sliding windows with enough space between the panes to fit a paint stirrer. For double-glazed thermally broken windows, the great big gap allowing air flow and rattling is a bit of a surprise. We've begged, pleaded, threatened and gotten legal advice to start that process and at one point (11 months from ordering) the supplier told us our best option was to take them out and get someone else to make them. In addition we're still missing screens, have windows that don't fully function, have one that's actually a door shrunk to look like a window (but not open like one), have loose glass, missing pieces, damage, etc. We have no idea when this part of the nightmare will end.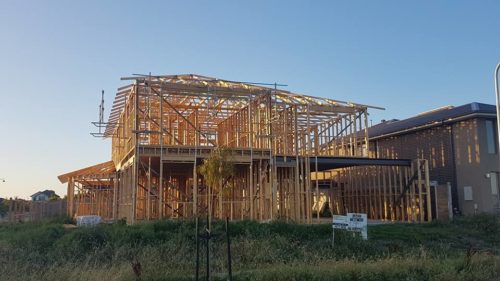 February 2017
When the windows were late we contacted our bank to ask for an extension to the bridging part of our loan. It was denied. We appealed. It was denied again. We were asking a bank we'd been customers of for 16 years to give us six weeks longer to repay the part of the loan secured by our current home. They refused because our house wasn't on the market and we were asking more than a month from the deadline. We were asking so far ahead so that we could delay putting our house on the market. Once we'd done that it would be too late. They absolutely refused to budge even though not having our house finished would mean we wouldn't even have fully drawn on the loan they wanted us to reduce. And it would mean selling our current house without a new one to go to but likely only for a few weeks over Christmas when there will be little chance of finding anything to rent.
So we had no choice but to put our current house on the market. To do that we needed to renovate and we had to do that ourselves. We spent weeks of 18 hour days painting, packing, shifting and moving things to storage. Everything in our house had to be physically relocated at least three or four times. In addition to the craziness of the lying and manipulative window supplier, we had carpet people confirm a booking one day and get us to move all the furniture (some of it outside) and rip out carpets only to not turn up as scheduled the next and end up shortening the window between new carpets and real estate photos from 4 days to just under 1-1/2. I had another tradie get angry and try to intimidate me into continuing with his services when I asked him to leave my house for behaving extremely unpleasantly. Others have aggressively pounded on our door on a Saturday morning – because we were unhappy with their work and cancelled anything further!
But it did pay off and we sold the house at a great price in just 6 days – one open home, two private viewings, two offers. We managed a long settlement but that is up next week and we will be moving – but we don't know where to.

PLEASE NOTE – This means no more events
will be held at Kirra Close!
Once the house was sold the focus was back on trying to have the new house ready before we found ourselves homeless. We're building with an independent builder who is fantastic but it means we're doing a lot more of the practical stuff ourselves – researching and meeting with suppliers while he does the actual building. EVERYTHING about it became urgent and everything had to be dropped whenever the next thing was needed to try and make sure that absolutely nothing resulted in further delays. That didn't happen.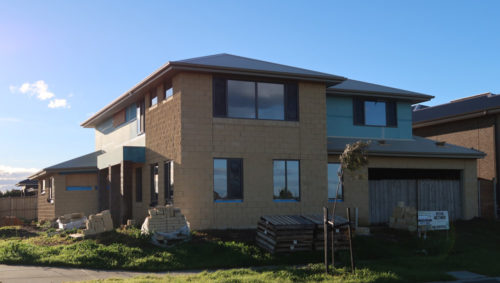 July 2017
As I write to you now we are just days away from moving out of our home of 16 years and the new house is unlikely to be ready for us to move into. Until last Friday there was still a remote chance – as long as the dodgy windows passed the occupancy inspection. But when the kitchen – ordered in July – didn't arrive as promised our hopes were dashed – and we don't know where that leaves us.  Our cabinet maker – who did a great job on our current kitchen 14 year ago – completely out of the blue has been aggressive, insulting and regularly leaving me in tears. He's become fixated that he won't get paid even though we're ahead on progress payments and have never had a late or unpaid invoice AND have tens of thousands worth of more cabinetry we've commissioned him to build. He's refused to deliver our kitchen and demanded full payment for everything now. This is a violation of his own contract terms and a total shock because he's done the bathrooms and the laundry and it went smoothly. He has since been nothing but rude and arrogant and we are just hoping he delivers the main kitchen this week.
We are now looking at taking up a very generous housesitting offer when we leave our current house next week, with the hope that our actual builder (who has been totally brilliant throughout all this) can get the house into a state where we can move in soon, although there will still be lots to finish over the coming months. We know it will be a wonderful house, and we will make it a fantastic home, but right now we are facing a long period of uncertainty, disappointment and possible legal battles. Things may resolve rapidly, they may not. We shall see.
Through all this I have been able to keep both my monthly stamp club and my twice-monthly Create & Chat classes going and posting sporadically on Facebook but that's all I've managed. Once all the house stuff is resolved I plan to hit the ground running and be back with even more events than ever!
In the meantime I will be quiet for a little while longer. I have no events at all planned for December while I don't have a venue so I want to wish you a very Merry Christmas and a Happy New Year. If all goes well I will be back in January with the unveiling of my new classroom and the launch of the Occasions Catalogue and Sale-a-bration 2018.
 This is how our house looks today, weeks AFTER we're supposed to have moved in.
Note how little has changed since July.
Those with eagle eyes will spot that in July some of our windows were boarded up. Now they're not. It's crazy how much difference not having six windows can make to the progress that can be made.
Especially when those windows are in the kitchen, laundry and bathrooms!