I have to start this post with an apology to everyone who came to the Thursday night launch – you missed out on these….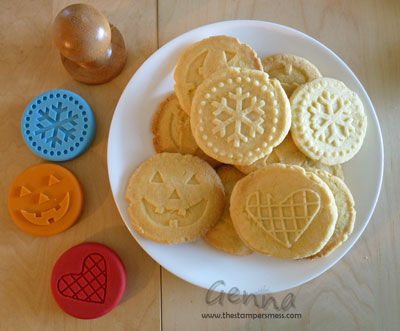 I ran out of time for baking for the first event and even though Wonder Husband did a wonderful thing to try and make up for it, it wasn't quite the same. I mentioned to 'his awesomeness' that I hadn't made the cookies so he took it upon himself to look up a recipe for plain cookies, whip up a batch and deliver it once the launch was underway. A lovely, lovely thing to do indeed but what he hadn't realised was that the whole point of baking the cookies was so I could try out the new cookie stamps! Oh well, his cookies were delicious – if a little less attractive than I'd intended!
My lovely cookies only made an appearance at the Sunday launch. They're made with the new Sweet Pressed Cookie Stamps! I used the Sugared Shortbread recipe included in the pack and the 'Holidays' set of cookie stamps.
They were delicious and so much fun! Not to mention super easy – once I made up the dough all I needed to do was roll it into balls and then 'press' with the cookie stamps before baking. How cool is that!
You can spend a bit more time and roll the dough into sheets, press the stamp into the dough and then cut out with a round cutter for perfect edges. But who needs perfect edges when they're so delicious they need to be sampled straight away!
Each set of stamps comes with 3 silicone stamps and a wooden handle. Everything is food safe and easy to clean. And only $29.95!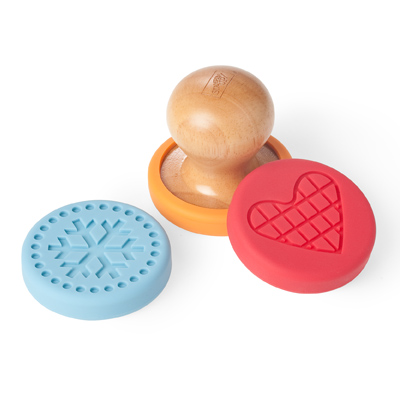 'Holiday' Sweet Pressed Cookie Stamps – that's the Jack-o-lantern image loaded onto the wooden handle!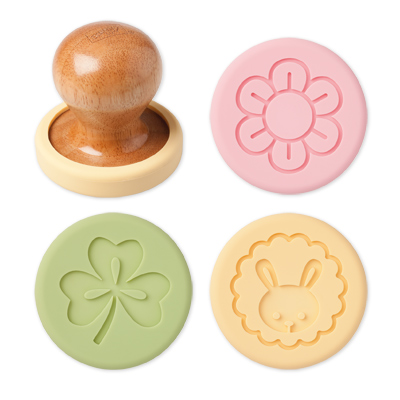 'Occasions' Sweet Pressed Cookie Stamps . (There's three in this set too – the bunny is on the handle this time)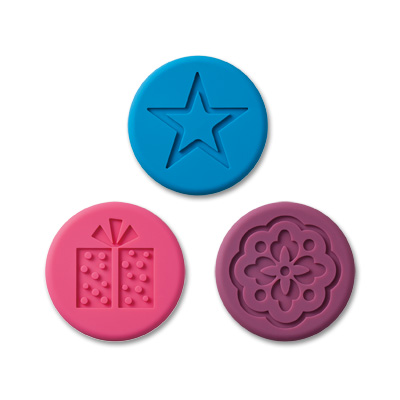 And the 'Special Events' Sweet Pressed Cookie Stamps!