I love Valentine's day! So does Wonder Husband. We know it can be overly commercial but just can't resist the excuse to indulge in something that lets us demonstrate how we feel for each other. Not because we're supposed to because it's February 14th. Not because the marketers want us to splurge on presents. Not because we expect it or demand it of each other. But because it feels good. It's an excuse to be happy. It's a reason to stop and think and not let the daily routine be our focus. And we make sure our boys see us making a fuss of Valentine's Day too so they see there's nothing wrong with declaring your feelings and letting them show. So we took them with us for a special Valentine's dinner out – an early sitting so as not to disturb those wanting a more traditionally romantic dinner. Well that, and because we had plans to cuddle up on the couch and revisit When Harry Met Sally once we'd got them into bed!
Here's the card I made for His Awesomeness this year using a series of hearts cut from the Hearts Collection Framelits. His response when I gave it to him was 'It's a bit pink isn't it!' This was said with a smile but it was in all seriousness. Here I was deliberately going for blue/green shades so that despite the imagery it wasn't overly feminine and his colour blindness left him thinking it was pink! Seriously. He sees this as pink. Just as well he likes pink!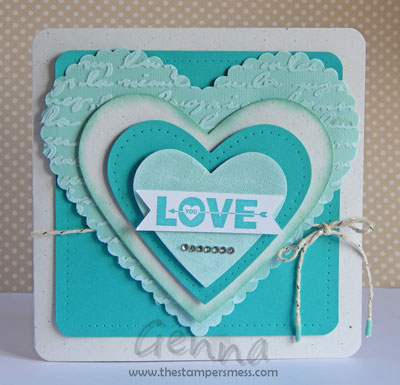 And here's a close-up of the of the details. There's paper piercing using one of our fantastic templates, sanded back Core'dinations cardstock, sponged ink, strings of bling and the new metallic Baker's Twine. I went to town on this one and enjoyed every second of it!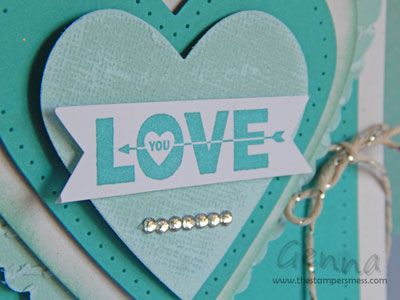 The stamp is from an already much-used set from the new Occasions catalogue: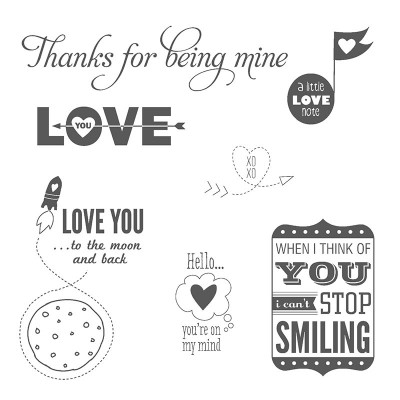 Love You To The Moon (Occasions p25)
Wood (133140) $42.95
Clear (133143) $33.95
And before I go I have to share the card His Awesomeness gave me. He saw it in the shop and couldn't believe how apt he thought it was for the two of us!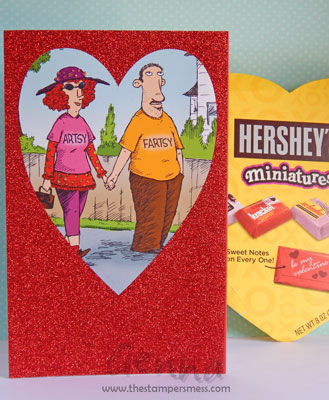 Cheers
Genna