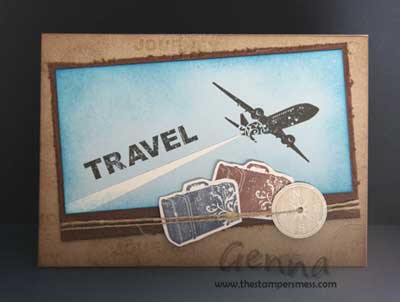 I love this card. I made it in 2010 for a swap with some demonstrator friends and it's one of my favourite creations.
There's a fair bit on there but it was all pretty straightforward. I even made the jet trail easy for myself by cutting a sliver of white cardstock and just sticking it onto blue. With a little bit of sponging it made a really effective sky. And the composition, the distressing, the  collage stamping in the background all just came together for me. I love it when that happens.
But why am I showing you now?
I was reminded of this card and this long-retired stamp set when the latest Weekly Specials came out. This week the Digital Kit features this much loved stamp set and coordinating papers.
For just $6.57 you get the stamp set AND matching papers that you can print as many times as you want in whatever size and whatever colour you want. Print them out and use in  physical projects like my card or layer them up and use them on digital ones. The choice is yours.
And the best thing is that Digital Stamp Sets don't retire! So you can still get it. And if you're quick you can get it on special!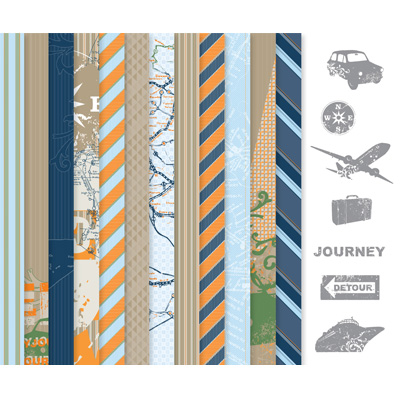 Travel Journal Digital Kit Download (online)
 (121071) WAS $10.95 NOW $6.57
But only until 11.50pm TODAY!

 What if you don't have digital software to use it with?
Easy. Just get MDS or My Digital Studio.
You can try it free for 30 days or pay just $24.95 for the FULL version with masses of included content!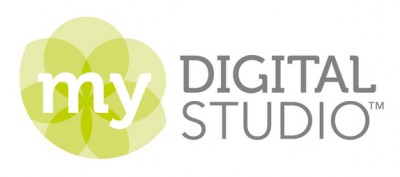 Click on the image above to visit the dedicated MDS website for tips, training videos, inspiration and more!
Have a look at this post to find out more about it!
Or jump right in and order the free of the full version here
Cheers
Genna