Yay, they're here!!! These are another product I first saw while I was in the US and have been waiting and waiting to get my hands on them for myself. Now finally I can.
In just one step these dies make fantastic, shaped cards that flip. There are two designs to choose from and they both come with an array of accessory dies to help you decorate your cards.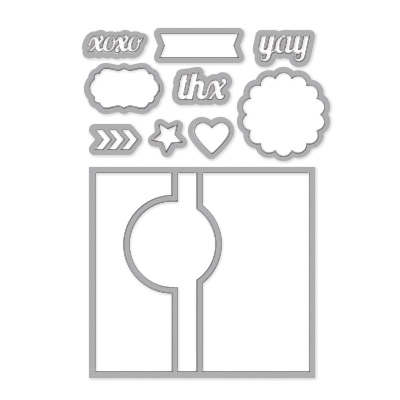 Thinlits Card Die – Circle
(133480) $55.95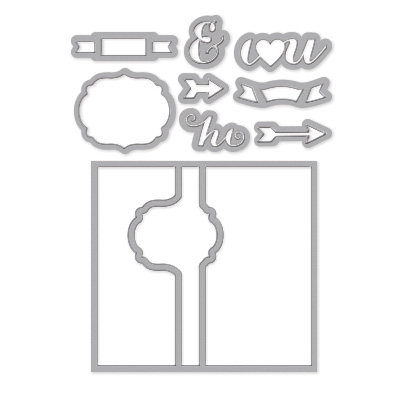 Thinlits Card Die – Label
(133479) $55.95
Additional Information:
• The Circle Card Thinlits Die comes with 10 total pieces;
the Label Card Thinlits Die comes with nine total pieces.
• Card base: Unfolded: 15.2 x 14 cm Folded: 10,8 x 14 cm
Coordinating Products:
Label Card Thinlits Die:
• Happy Day Stamp Set (130294 (W) or 130297 (C) )
Circle Card Thinlits Die:
• Worth the Wait Stamp (item 131091 (W) )
• Five-Way Flower Stamp (item 131088 (W) )
Both card dies pair well with:
• Oh, Hello Stamp Set (131931 (W) or 130733 (C) )
• Yippee-Skippee! Stamp Set (131341 (W) or 131344 (C) )
• Really Good Greetings Stamp Set (130330 (W) or 130333 (C) )
• Regarding Dahlias Stamp Set (130324 (W) or 130327 (C) )
This was the first flip card I made…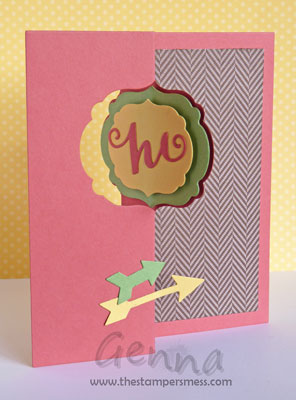 THE PRINTABLE PHOTO RECIPE CARD IS AVAILABLE TO MY NEWSLETTER SUBSCRIBERS. 
Subscribe for free today and let me know you'd like this one. 
It's hard to see the 'flipping' part in photos but here are a few more views to give you a better idea. This is the inside…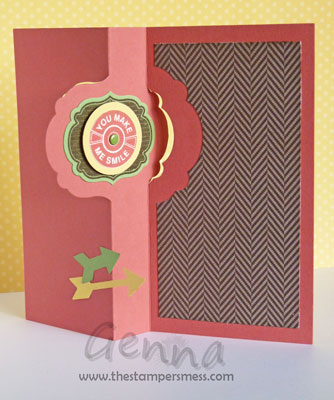 And this is the back – with a special space to write your message to the recipient…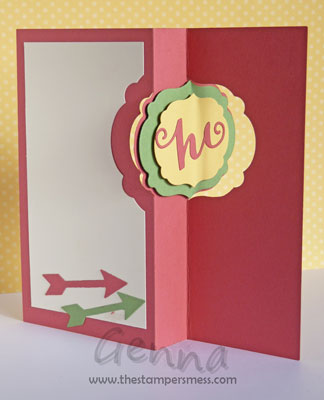 This great video from Stampin' Up! gives you an even better idea of how the cards work:
Cheers
Genna