As a demonstrator, when you start to grow a small team you can earn the right to give your team a name. I struggled with this a bit and it took me more than a year after I became entitled to choose one to actually give my team a name. I wanted it to be right. It couldn't be too corny but I wanted it to have a down to earth and welcoming vibe too.
In the end I called my team The Stampers Next Door.
There are several reasons for the name. It fit my selection criteria, and it just so happens that my team does most of their stamping in the house next door to mine – which is owned by my in-laws. It just seemed to fit and I've been really happy with it.
So, I thought it would be appropriate to make a few cards in the team's honour.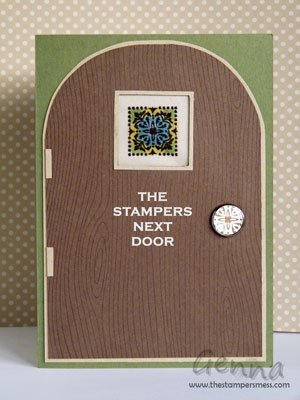 This is the first door card I made and it was initially to put in the header for my team newsletter.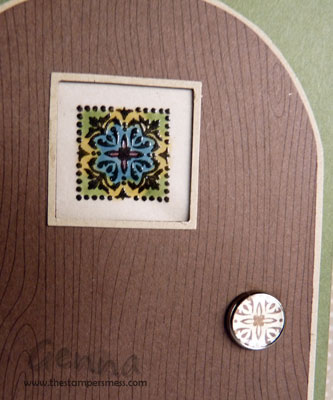 This is a close up of some of the door's key feauters, a 'stained glass' window and a 'build-a-brad' handle.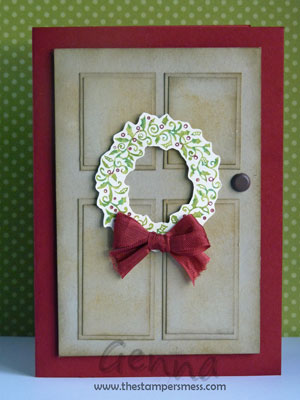 These next two doors were made during the creative process for my Christmas in July class this year. I loved them both, but only the first one made it into the class projects.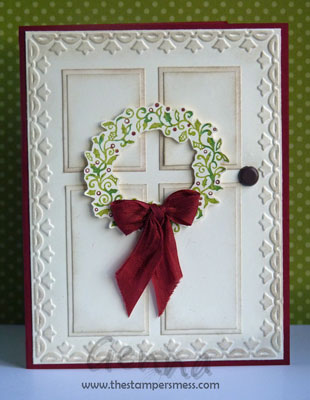 This last one is my favourite…for now. I have a few ideas for others so look out for more in the future.
I would love my team members to get creative with some door cards too but so far I haven't been able to convince any of them. So I thought I'd throw the idea out there and if anyone reading this would like to give it a go I would love to see what you come up with. It can be any size, shape and style, it just needs to resemble a door of some sort.
Cheers
Genna