I had so much fun last month I've joined in on another Art With Heart Blog Hop! This time the theme is Easter! A Hop for Easter, what a great idea!
If you've hopped over from the blog of Kathryn Manglesdorf, welcome! There are 11 of us in this hop – all from the Art With Heart team of demonstrators – and you'll find the links to all the other blogs at the end of this post.
Easter always manages to sneak up on me, all of a sudden summer is over and Easter is here! But at least I was prepared this year – I'd already fallen in love with the For Peeps' Sake stamp set in the new Occasions Catalogue: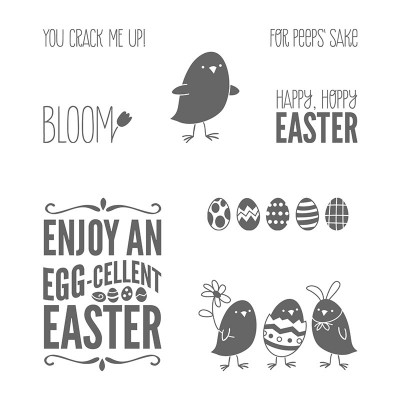 For Peeps' Sake (Occasions p34)
(137179) Wood Mount stamp set $42.95
(138557) Clear Mount stamp set $30.95
I've used this stamp set in all my creations for this hop. More and more people seem to be wanting to avoid having excessive chocolate in their households so I've concentrate my efforts on making cards. That way I can show people how much I care without adding to their sweetness overload!
First up I have a card I designed for one of my recent Create & Chat classes: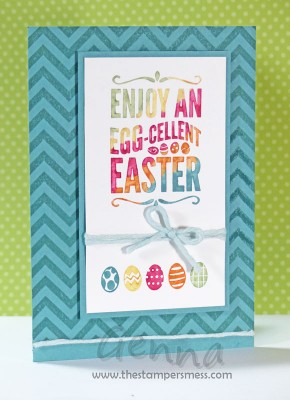 I loved the wavy look of the greeting and had to emphasise this by colouring it with markers in a wavy fashion.
I'm also a huge fan of chevrons for Easter. You'd have a hard job finding eggs wrapped like that in the shops now but it's certainly a look we all associate with the patterns on Easter egg wrapping! For this card I added the chevron with the mighty Positively Chevron background stamp.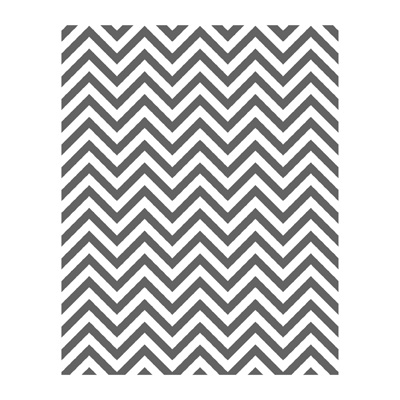 Positively Chevron (Annual Catalogue p175)
(130496) Wood Mount stamp set $30.95
(130499) Clear Mount stamp set $24.95
For my second project I had to make very good friends with my Stamp-a-ma-jig! Those eggs are actually from this single stamp that has 5 eggs in different patterns.

 Although the different colours haven't shown up very well on my photo, I used the Stamp-a-ma-jig and the masking technique to create my rows of eggs in 5 different colours!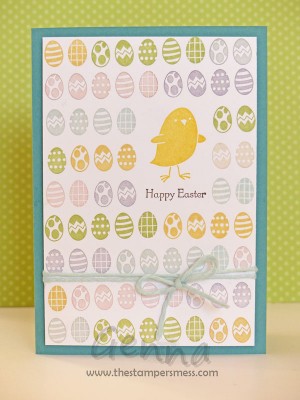 I'm a big fan of the Stamp-a-ma-jig for getting the perfect placement of your stamps but even I have to admit when I was getting towards the end of all the eggs I was starting to get very nervous that I'd mess up and have to start all over again. Luckily my only mistake was quite early on the first time and this piece was second time lucky!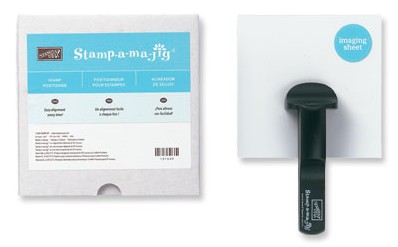 Stamp-a-ma-jig (Annual Catalogue p235)
(101049) $20.95

For my third cad I chose another time consuming but very rewarding technique – Paper Piecing. To create my three crazy chicks I stamped them out several times on different coloured paper and then fussy cut around each element and stuck them all back together to form the whole image. Just as well I love cutting! And that our Paper Snips are such super scissors!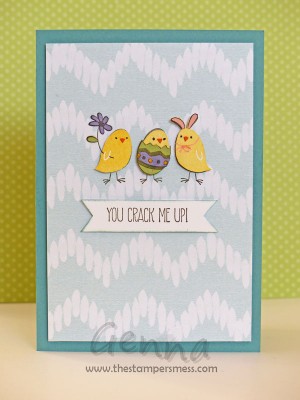 And to head back to those fun Easter chevrons I used a piece of the Sweet Dreams Designer Series Paper: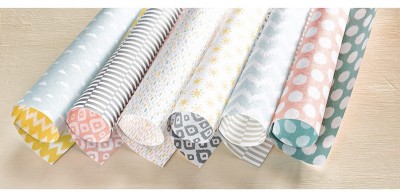 Sweet Dreams DSP (Occasions Catalogue p39)
(137782) 12 sheets of 12″ x 12″ double-sided paper $18.95
Here's a close up of those little cuties so you can see all the details in the paper piecing. Yes, I even cut out the dots on the egg pattern!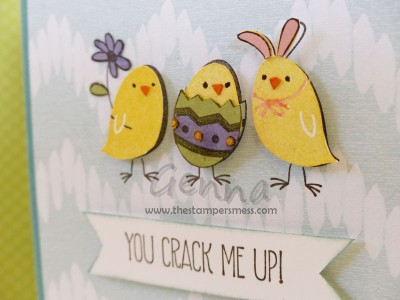 Finally, something much, much simpler to finish off. I did use the Stamp-a-ma-jig again to stamp my chevrons but with a clear mount stamp set you could probably get away with just eyeing it and getting them close enough. BTW, these are the same colours I used on my rows of eggs in the card above and they show up much better here as 5 separate colours!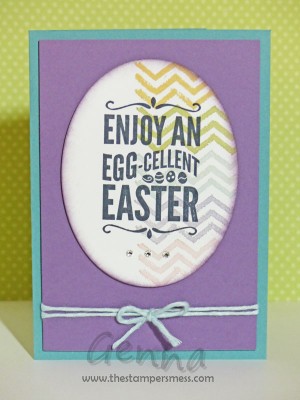 When is an oval not an oval? When it's an egg! It was super easy to cut out my egg with the Oval Framelits and the Big Shot and then sponge some ink around the edges to give it that 3D rounded look.
And if you're wondering where those coloured chevrons came from, I used one of the stamps from the extremely versatile Work of Art set: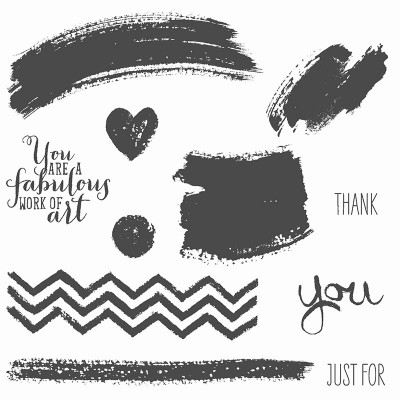 Work of Art (Annual Catalogue p165)
(134111) Wood Mount stamp set $51.95
(134114) Clear Mount stamp set $37.95
Apart from the chevrons did you spot the other common theme running through all four cards?
 All four cards use Lost Lagoon as a card base – my new favourite Easter colour  – it goes with EVERYTHING! 
And three of the four cards also have the Soft Sky Cotton Twine from the Painted Blooms trio: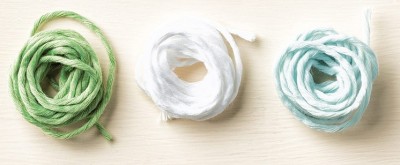 Painted Blooms Cotton Twine (Occasions p37)
(137873) 3 rolls in 3 colours, 9.2m each. $11.95
Well that's it from me for this time, I hope you've enjoyed stopping by!
Don't forget, Sale-a-bration must end March 31st! 
Remember, for every $90 you spend on fabulous Stampin' Up! products from any of our catalogues before the end of March you'll earn a free Sale-a-bration product! There are no limits and you have loads to choose from – including four brand new ones just for March! 
Have you considered becoming a Stampin' Up! Demonstrator and being part of a lovely, supportive team?
Sale-a-bration is a great time to jump on board, with wonderful extra bonuses in your Starter Kit!
 Starter Kit Value = $169 for $235 worth of product 
PLUS 2 FREE Sale-a-bration products!
Thanks so much for visiting my blog. Next up we have some gorgeous creations from my lovely friend Kathryn Ruddick

Don't forget to email me at  to get a copy of the Occasions Seasonal Catalogue or Sale-a-bration brochure, or to enquire about joining the Art With Heart team.
Cheers
Genna
Participants:
1. Nikki Sadler
2. Claire Daly
3. Rachel Woollard
4. Kathryn Mangelsdorf
5. Genna Gifford (This one is me!)
6. Kathryn Ruddick
7. Ros Davidson
8. Angela Lorenz
9. Tamie Holt
10. Kate Morgan
11. Sue Wdowik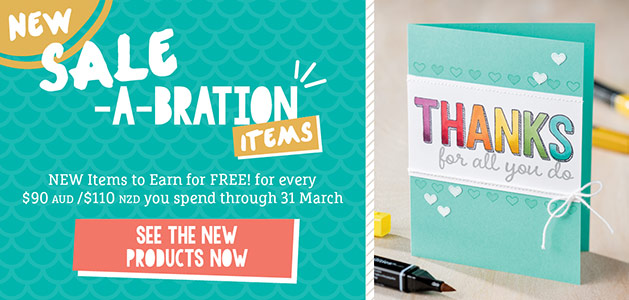 NEWS FLASH!!!! 
For the last month of Sale-a-bration we have a lovely surprise – FOUR stunning new products to choose from when you spend $90 on any catalogue product!
Click on the images below to see the new choices,
there are stamps, accessories and designer vellum!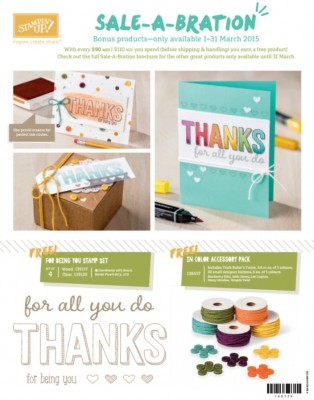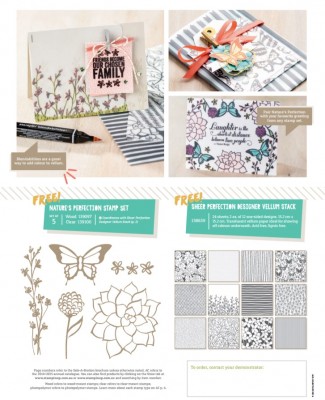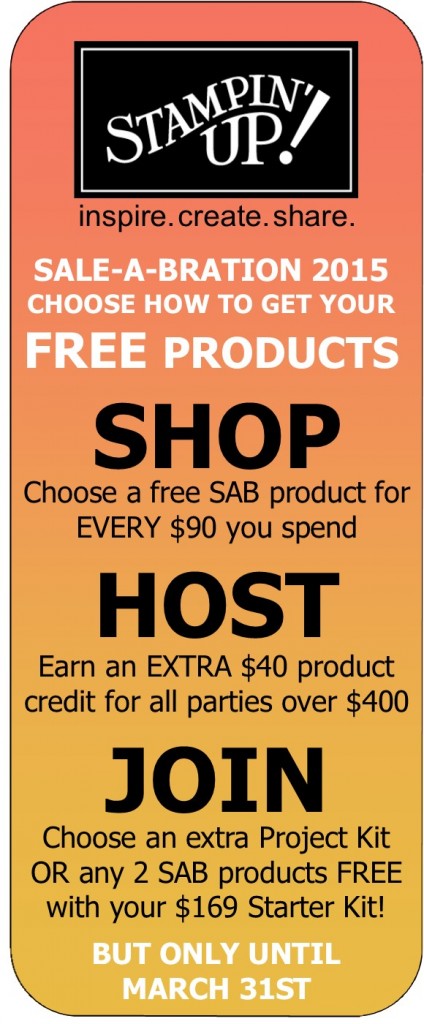 And remember you can still choose any of the other Sale-a-bration freebies too. See them all in the brochure below: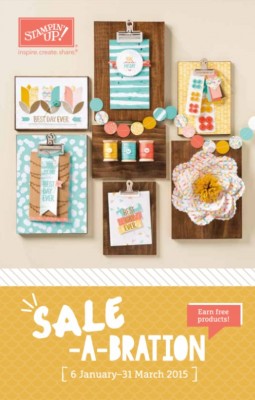 Cheers
Genna