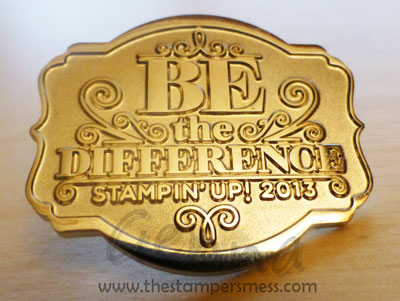 Wow what a jam-packed few days that was! The Stampin' Up! annual convention is always a blast for so many reasons and Brisbane certainly delivered this year. It was four days of complete stamping indulgence! There were classes, presentations, dinners, awards, product playground, workshop wows, swaps, friends, hugs, goodies and exciting news galore. Here's a whirlwind tour of my time at my fifth Stampin' Up! Convention.
First, meet the wonderful bunch of ladies I shared it with…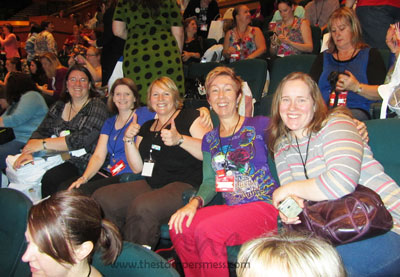 L-R: Me, my team members Teena Pillar, Jodie Griffith & Linda Perrins, and my very good friend and long-time convention buddy Ros Davidson!
DAY ONE
A ridiculously early start and a flight up to Brisbane got me there just in time for the add-on Leadership part of convention where we got to spend a bit of time with the US staff that come over from head office and heard all about the business side of things- achievements, goals, priorities, challenges, etc.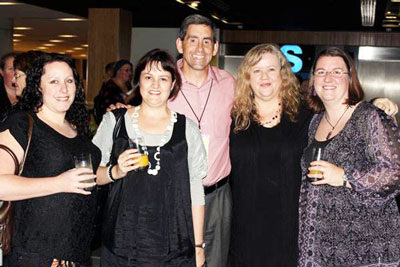 This is Miriam Thomas, Sue Maddex & Claire Daly, some fellow-leader friends from my wider team, and Stampin' Up! President Rich Jutkins
(Thanks for the photo Claire!)
We had some classes on coaching and problem solving and then headed up to the Sky Terrace for a Movie Star themed Manager's dinner.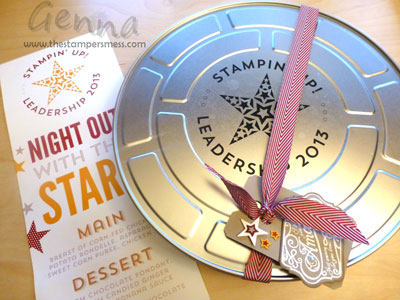 They even had our names scrolling up in lights and gave us themed gifts.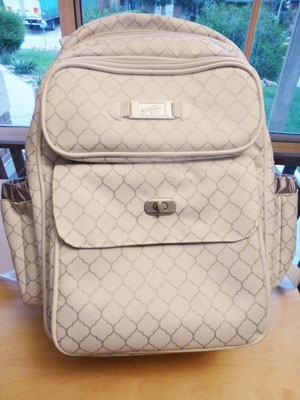 We also got to pick up our fabulous Convention bags full of goodies including two brand new stamp sets! I'm not sure me and white are a good combination but I love the design!

DAY TWO
Another early start so I could beat the crowds by ducking into the VIP session of Memento Mall! This is a highlight of Convention for me where we get to purchase Stampin' Up! themed products that aren't available elsewhere. There were bags, watches, charms, display items, stationery items, and even a hammer!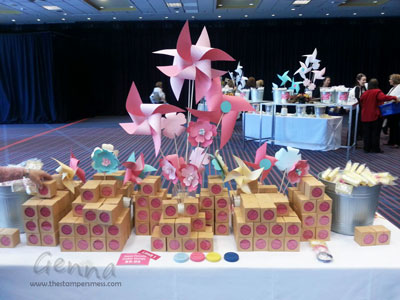 And then it was off to a frenzied round of card swapping before the first General Session full of news, demonstrations, giveaways and prizes. One of the most exciting pieces of news came from an unlikely source – Ronald McDonald! He dropped by to celebrate that Stampin' Up! is now a supporter of Ronald McDonald House Charities in Australia and that we will have an exclusive stamp set in our new catalogue that will carry a $3 donation for every stamp set sold. Keep an eye out for more on that one!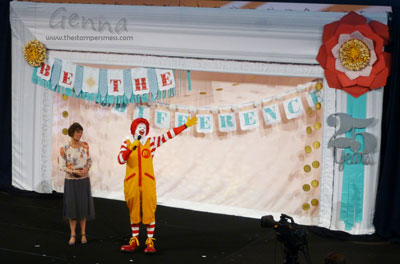 We then had the chance to explore the Product Playground and experiment with some of the upcoming new products – a rotary blade for the trimmer, a magnetic platform for the Big Shot, Simply Pressed clay and more! And we also got the chance to browse the swap boards!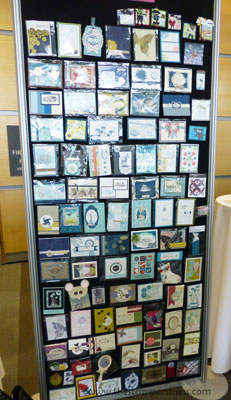 Mine is on this board somewhere!
We finished off the day with more presentations, prizes and awards. We went home that day with more new stamp sets, a new colour coach, a copy of the new catalogue, and a couple of kits. They really were determined to celebrate their 25th anniversary in style!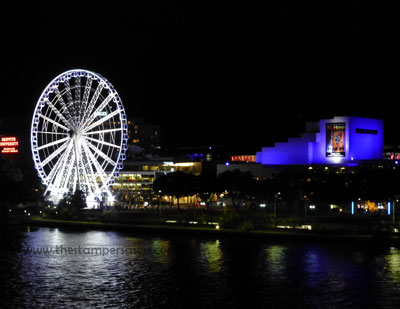 Despite the long day, we even managed to fit in some brief sightseeing with a trip up the Brisbane eye! It helped that it was happy hour and it was right outside the Convention Centre!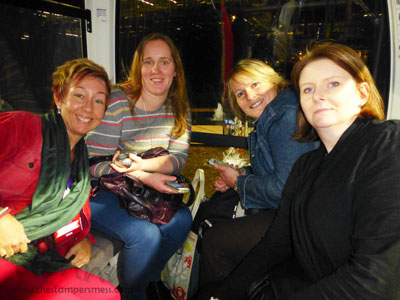 Can you guess which one of us wasn't so keen on being up so high?
DAY THREE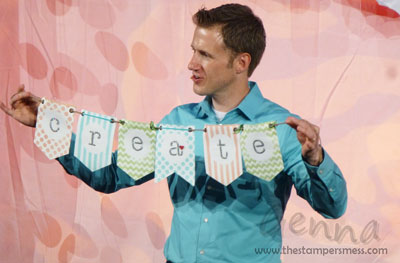 We had a very long day filled with demonstrations, classes and creating before getting dressed up for the Annual Awards night and After Party.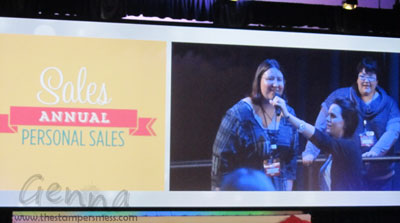 I had already walked the stage and received awards the day before for Level 1 Sales, Level 1 Recruiting and Level 2 Leadership but at the Awards night I got to go up and receive recognition – and a lovely bouquet – for achieving the incentive trip…A Grand Vacation to Utah in July.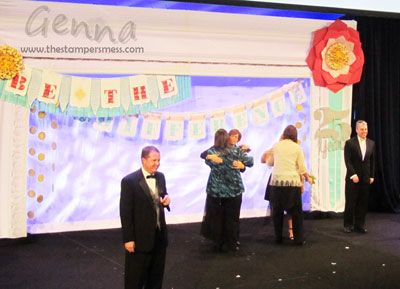 That's me hugging Shelli in the middle!
This was sooooo exciting and terrifying all at once. For the other awards I just gave my name and walked across the stage, for this one I had my name announced and was greeted with hugs from Shelli Gardner, the CEO and cofounder of the company, and the heads of Stampin' Up! in Australia and New Zealand. It was a different experience entirely!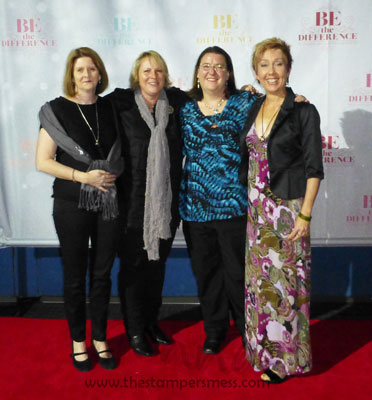 And the After Party was a hoot! It was so much fun to share everything with some of the amazing ladies in my team!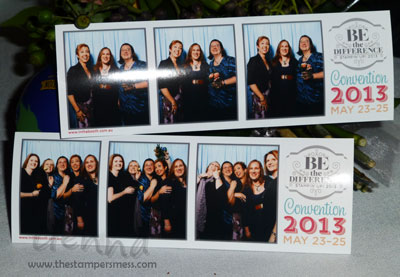 DAY FOUR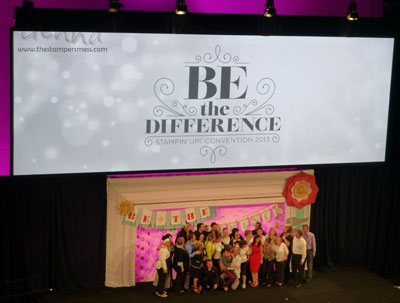 The final day of Convention brought more classes, demonstrations, presentations, inspirational talks and even more giveaways!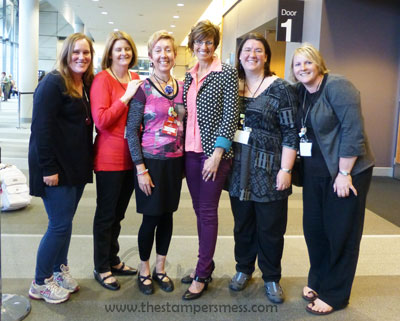 I finished the day with a photo of me and my charming companions and Shelli herself. I was exhausted, elated, inspired, motivated and so full of new ideas to think about and try out I could barely think straight! Usually that would be enough to last a year but this year I'm going to get to do it all again at the US Convention in Salt Lake City and it's only weeks away!
Finally, after the intensity of it all I managed to add a couple of extra days to my trip to see a bit of Brisbane – it was my first time there – and catch up with some family there. It was lovely and relaxed and the sun was shining and it felt like I had a whole extra holiday.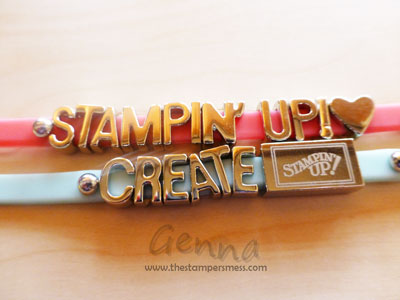 I actually arrived home far more relaxed and ready to go than I ever have from convention before. I'll have to remember that for the future.
Cheers
Genna
P.S. Big thanks to Linda Perrins for some of the photos!