It's been one of my dreams to see the Northern Lights some day so when there was a spectacular Aurora Borealis visible here in Victoria recently and I didn't see it I was gutted.
But it did remind me that I'd been wanting to try out the Northern Lights technique for a looooong time. So why not now?
This technique is all done with sponging. I used a combination of Sponge Daubers and Stampin' Sponges for my tools. I masked off the bottom portion with a torn piece of scrap paper and just played around until I got a look I liked – I did go through quite a few sheets of cardstock though! The colours I used for the sky were Crushed Curry, Melon Mambo, Tempting Turquoise, Pumpkin Pie, Blackberry Bliss and Black.
Once I was happy I sponged some Garden Green ink for the ground and stamped the silhouette trees over the top. I used a combination of Sheltering Tree and the ever reliable Lovely As A Tree.
Finally I added the greetings and the stars. The latter were dotted around using the tip of the White Gel Pen and really made a huge difference to the look of the sky.
After all the sponging attempts that didn't make the cut I ended up making two cards. I like the 'lights' better on one and the layout better on the other.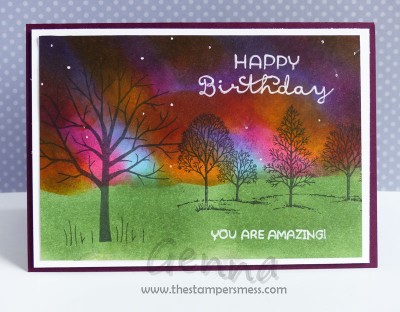 Which one do you like best?
Leave me a comment and let me know!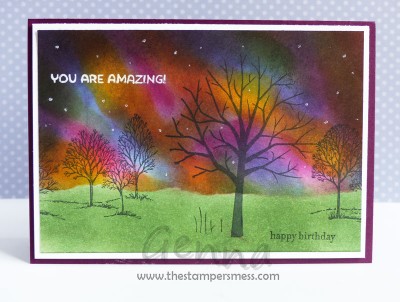 Do you want to know a secret?
I stamped the greetings in Whisper White ink but didn't like how pale they seemed on the background, so I held my breath and traced over the stamping with the White Gel Pen.
In future I think I'll use White Embossing Powder and emboss over the top.
Don't forget to let me know which version your prefer.
Cheers
Genna
It's Christmas…in July!
Yay, the new Annual Catalogue has a Christmas section!!! This year you can check out pages 67 – 72 and not have to wait until the Holiday Catalogue comes out in September.
To get a head start on all your Christmas crafting I'm dedicating my July class to Christmas projects.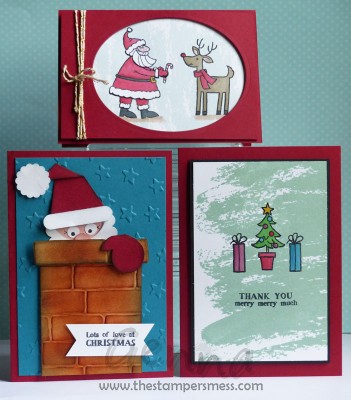 8pm – 11pm
NARRE WARREN
$20 per person OR $10 with discount*
Friday 17th JULY
10am – 1pm
NARRE WARREN
Children able to entertain themselves
in the next room are welcome!
$20 per person OR $10 with discount*
We'll be making three Cherry Cobbler cards, all using a different element from one of the new Christmas stamp sets 'Santa's Gifts'.
Santa's Gifts (p68)
(138808) Photopolymer $28.00
Here's a close look at each of the cards:
We'll use the new Brick Wall embossing folder to create a chimney for a punch art Santa to peek out from!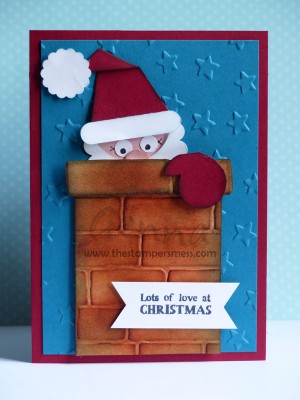 We're going to help Santa give a lovely pressie to Rudolph: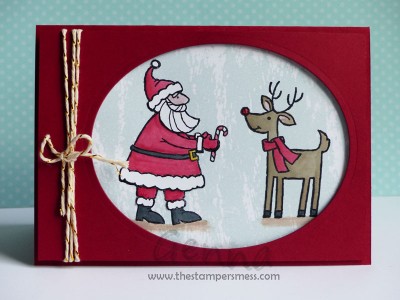 And we'll make a card that's quick and easy to reproduce in multiples but still has that lovely handstamped look!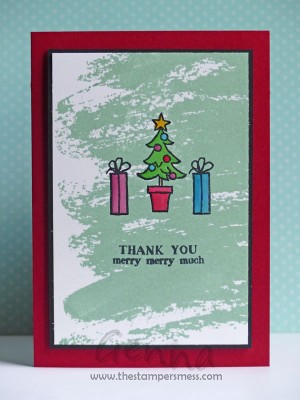 If you want to come along please make sure you click the button above and follow the prompts to book your place.If you don't have a digital way to pay the fee send me an email and I'll give you the cash payment password so you can still pay on the day.
*ALL CLASS ATTENDEES CAN GET A $10 DISCOUNT ON THE FEE BY PLACING AN ORDER OF $100 OR MORE ON THE DAY.
Cheers
Genna
It's about time I shared the card I actually gave my mum!
In the lead up to Mother's Day I created lots of suitable cards for mums. But I made those for specific classes, shared them in my newsletter, on Facebook or on my blog, so it just didn't seem right to give any of those to my mum on the day. I didn't want her to think she was getting it as an afterthought!
So here's the card I made especially for her. It starts off pretty, but quite simple: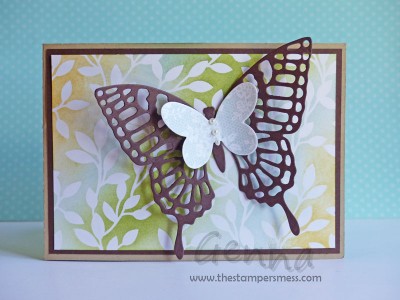 Then when you go to open it up…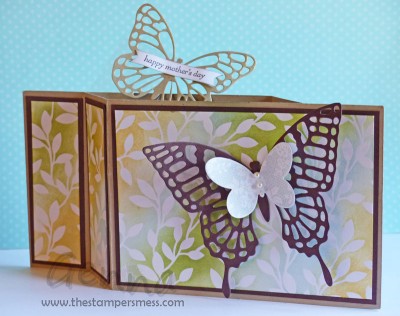 …up pops another butterfly carrying the greeting.
And because there really isn't an 'inside' to write in, I created a special panel on the back: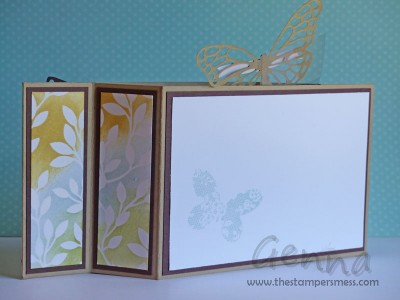 This style of card is called a Wiper Card because the mechanism that pops up is sort of like the windscreen wipers on a car.
The paper on the card is a sheet of the pre-embossed paper from the Sale-a-bration pack called Irresistibly Yours. I sponged it in a few different colours and the embossed pattern immediately became clear.
Because this paper is from Sale-a-bration it's no longer available BUT… the good news is that we have a pack very similar to it in the new Annual Catalogue: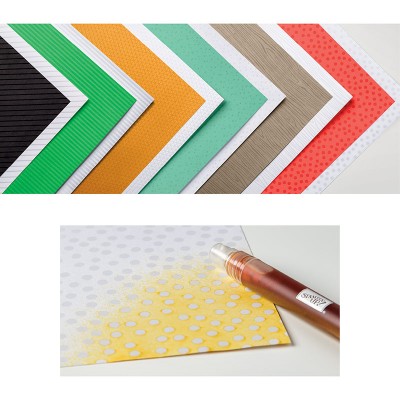 Colour Me Irresistible
(138439) $22.75
The coloured sheets have an embossed look, the white sheets are just waiting for you to colour them to make the patterns pop!
12 sheets total in 12″ x 12″ size: 6 single-sided designs in white,
1 each in Basic Black, Cucumber Crush, Delightful Dijon, Mint Macaron, Tip Top Taupe and Watermelon Wonder.
Cheers
Genna