I was looking for a project for an experienced group of crafters recently and thought I'd try something completely new – stamping on Shrink Plastic. My kids have some Shrinky Dinks – printed images that they can colour and then shrink – and they love them. I learnt from them that if you want a hole in your finished project you need to punch a great big one in the plastic before you heat it!

I'd picked up some sheets of black shrink plastic at a recent craft show so I stamped them with white Staz-On and used my heat tool to shrink it. In the past I'd put these type of things in the oven but it was quite exciting to watch it shrivel and shrink before my eyes – and it's great to watch people's faces when you demonstrate it too! At first it shrivels so much it looks ruined but if you stick with it you find that it flattens itself out and hardens into a perfectly shrunken version of what you started out with.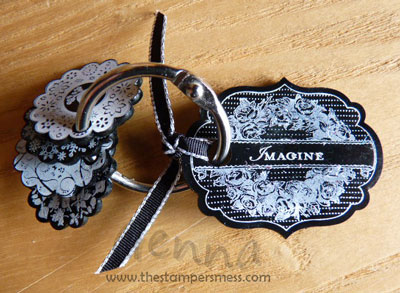 I was amazed at how well the stamping came out on the fully shrunken pieces. That ring is a standard key ring size!
The framelit in this photo was the size the plastic started out as so you can see quite how much smaller it gets! And much thicker and sturdier too!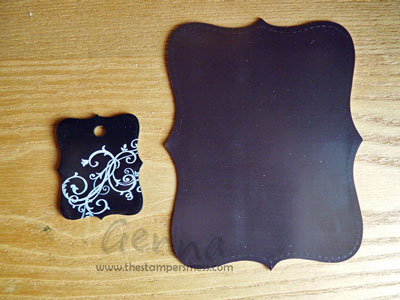 And here's a different shape, with before and after examples!
Just let me know if you'd like me to demonstrate this at your next workshop!
Cheers
Genna