The Card In A Box is another design that's hugely popular at the moment and I have no idea who to credit as its source.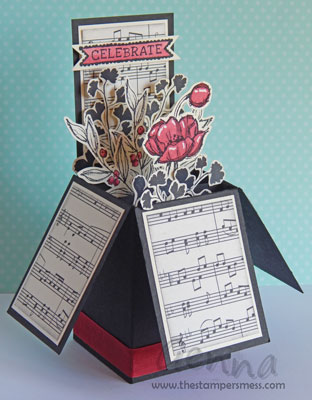 One of the reasons it's so popular is because it's so stunning and yet so simple once you know how.
I made this one for one of my cousins who recently got engaged. The invitation to the engagement party was all in Vanilla and Black. I wanted to match their colour scheme but was struggling to make it work without a feature colour to make it pop. I settled on red and was so pleased when I got to the party to discover the bride-to-be had done exactly the same with her party decorations!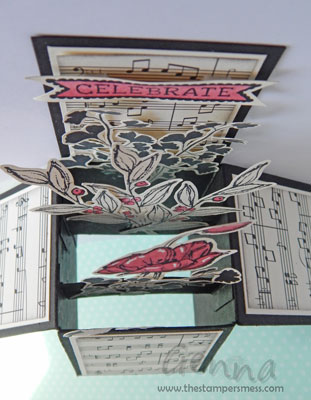 You can 'fill' the box part with whatever images you like, in as many layers as you like. This one has two layers, plus the back, as you can see from the bird's eye view.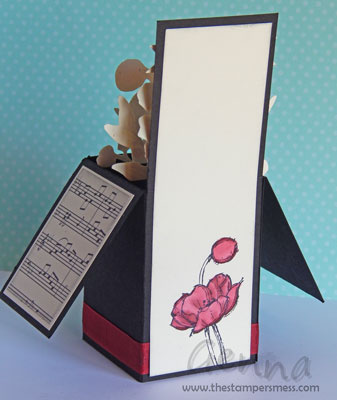 And there's plenty of room on the back to write your message.
The best thing about it is that if you design it well, it will all fold flat and fit inside a standard C6 envelope.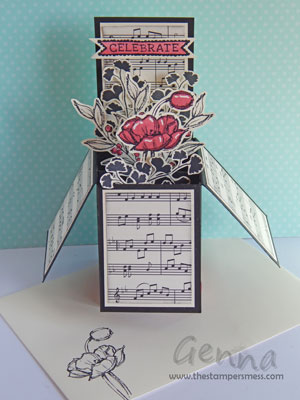 The Card In A Box is so popular and so many people have asked how they're made that I'll be including one of these in my April class. Keep an eye out for more details soon.
Cheers
Genna