Colour Challenge Blog Hop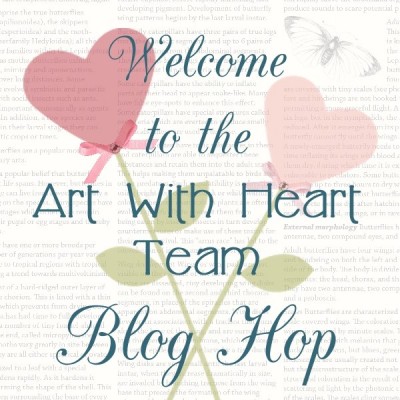 Welcome to the Art With Heart Team Blog Hop for October. This is an awesome Australia-wide team full of fun, friendship, inspiration and support – who wouldn't want to be a part of that!
This month instead of a theme we have a colour challenge! And I have to admit that I did indeed find this one a challenge! A fun one, but a challenge none the less. Here are our colours…

I love all four of these colours individually and when I set out to play I wasn't having any trouble combining them in groups of two or three. But I struck some trouble when trying to use all four!
From the outset I looked at these as some really girly colours so thought I might be able to kill two birds with one stone by using them on the birthday card I needed to make my 4-year-old niece. I tried, I really did – and probably for far longer than I should, but I just couldn't get it to come together for a 4th birthday card.
I decided that I needed a design with lots of white space to accommodate all those different hues. And then I realised that it was the brightness of the gorgeous Watermelon Wonder that was throwing me so I hit on a way to include it without having it compete too much with the other colours – as the outline of my Pink Pirouette flowers! Here's my first card: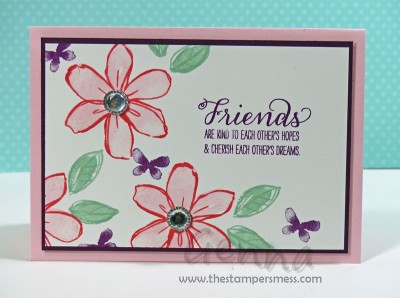 But I'd played so much I had all sorts of ideas buzzing round – and lots of partially completed pieces – so once I'd had some success I salvaged my bright girly butterflies and took them in another direction. Here's the result: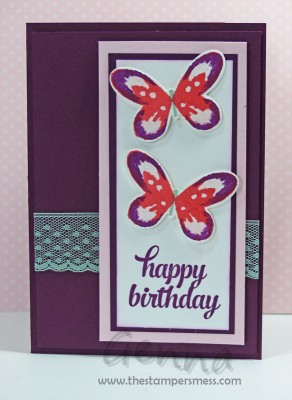 It is a birthday card, but I didn't really think it was right for my niece so back to the drawing board on that one.
In the meantime I can't wait to see what all my fellow blog-hoppers have been doing with these colours – and I'd love to see what you come up with too so feel free to share.
Well that's it from me, now it's time see what Kathryn Ruddick has conjured up with these colours.
Oh, and don't forget that we've got a fabulous opportunity to make the most of being a workshop hostess right now. Until the 9th November there are more benefits on the table so there's no better time to host a party or even a virtual party on Facebook. Contact me to find out more.
Cheers
Genna
If you find a broken link or have come to this blog hop from a different entry point, you can view all the participants below: 
13 Responses to Colour Challenge Blog Hop